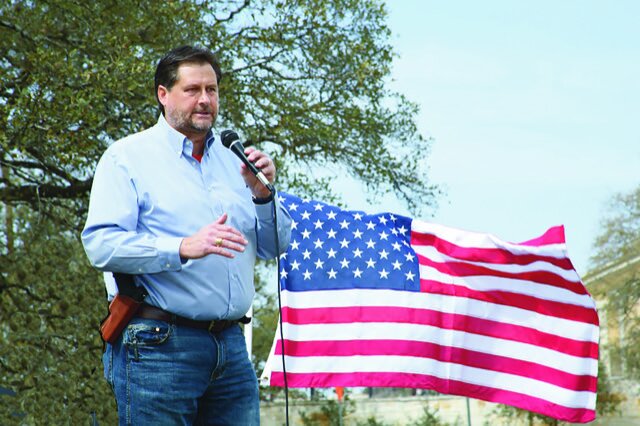 San Antonio Run-Off Election!
Early Voting: May 24 - June 1
Election Day: June 5
We can win this!
We Don't Need Another Politician on City Council Who Can't Be Counted On.
Hi, my name is Patrick Von Dohlen and I am not a politician.
I'm running for San Antonio City Council, District 9 to be an advocate for you.
Our lives are affected daily by the people who represent us on city council. While we work to support our families and make ends meet, they vote on important issues like street repairs, water rates and public safety.
But what happens when city council cares more about agendas than solutions?
On June 5th, we the people have an opportunity to change the direction of our local government.
As a community advocate, I have worked to end the overreach of local government. In fact, I'm the only candidate on the ballot that has protected and preserved property rights for residents as a private citizen.
I've lived in this community for over 24 years and I will work hard to protect our families, our businesses and our police. We need real solutions that improve our lives and I'm ready to fight the good fight.
As your San Antonio District 9 Councilman, I will work to:
Get Back to Basics - We must refocus on public safety, water, energy, waste services, infrastructure and quality of life issues.
Get Back to Business - We must create a positive environment for small businesses, especially those trying to recover from COVID. Small businesses cannot be strangled by bad policy and government mandates.
Back the Blue - We must affirm the police and other first responders in order to restore public safety in the district. Our men and women in uniform need the resources and support to do their job. Now is the time to defend those who put their lives on the line for us.
My goal is always - smaller government, less taxes and more freedom.
Today I am humbly asking for your support to help me correct the course of action for San Antonio.
Please consider a contribution to my campaign and please vote on Election Day, June 5.
Don't let the progressives win:
Our heritage, values and traditions are worth defending! We cannot allow political correctness to ruin our city any longer.
I am the candidate that can defeat John Courage.
I am:
Pro-Freedom
Pro-Family
Pro-Business
Pro-Law and Order
Pro-2A
Pro-Reliable Energy
Pro-Clean Water
Pro-Common Sense
I humbly ask for your vote on June 5, 2021.
Please prayerfully consider supporting our campaign.
My Opponent:
John Courage
Raised his fist in solidarity with Black Lives Matter, a radical Marxist group seeking to defund the police
Endorsed by Socialist Bernie Sanders and Our Revolution
Voted for resolution to declare racism a public health crisis (August 2020)
Proposed response to Winter Storm includes adding two unelected members to the CPS Energy Board
Voted for Paris Accord resolution which directed CPS Energy to shut down Deely Coal Plant and resulted in loss of power for thousands of times during Winter Storm
Co-sponsored a gun buyback program (September 2019)
Votes for Equity-Based Budgeting which sends D9 taxpayer money to other districts
Favors government housing next to established residents, devaluing home property values
Recommended another citywide curfew (December 2020)
Does not share your conservative values
HONORABLE FRANCISCO "QUICO" CANSECO
Former Congressman, District 23
HONORABLE FRANK CORTE, JR.
Former State Representative, District 122
HONORABLE KEN MERCER
Former Member, State Board Of Education
JONATHAN SAENZ
Texas Values Action President